Vattenfall and AstaReal sign comprehensive energy contract

Peter Worsöe, CEO AstaReal, Lovisa Fricot Norén CEO Vattenfall
Photo: Peter Knutson
Excess heat from algae cultivation will heat households in Gustavsberg
 Vattenfall and AstaReal are expanding their cooperation through a comprehensive energy contract to recover excess heat from AstaReal's algae cultivation. The idea is to be able to meet the heating requirements corresponding to 2,500 new apartments in Gustavsberg near Stockholm through the new partnership.
"AstaReal's production process is energy-intensive and requires both electricity and cooling. The excess heat that arises will be available for use for heating homes and premises. From spring 2022, Gustavsberg residents will have more than 20 percent of their heating requirements covered through this solution," says Lovisa Fricot Norén, Head of Vattenfall Heating in Sweden.
As part of the new energy contract, a customised solution with reversible heat pumps will be installed at AstaReal's plant in Gustavsberg. This solution makes it possible to efficiently recover excess heat from the production process, which means that more than fifteen million kilowatt hours of heat per year will be recovered and reused in the local district heating network in Gustavsberg.
"AstaReal, in Gustavsberg, is the first company in the world to produce the substance astaxanthin successfully on a large scale. It's used as a nutritional supplement for both humans and animals in Sweden and globally. Production takes place through the cultivation of algae in unique bioreactors. The process is energy-intensive and therefore we're committed to the most efficient use of electricity and cooling. Our extended partnership with Vattenfall fully aligns with our ambition to grow the algae as sustainably as possible and to be a positive force in society with a circular business," says Peter Worsöe, CEO of AstaReal.
In addition to the heating contract, Vattenfall will also continue to own and manage high-voltage installations such as transformers and switchgears, as well as supplying climate-neutral electricity. The heat pump plant is being upgraded with a new and much more climate-friendly refrigerant (R1234zee) than in previous solutions.
"We look forward to expanding our partnership with AstaReal, who will be a pioneer with this new technical solution that allows for connection to the district heating network. We're proud to be able to support AstaReal's ambition to find more fossil-free solutions, while at the same time they're able to transfer all responsibility for the plant's heat recovery through us owning, managing and ensuring its function," says Torbjörn Johansson, Head of Vattenfall Network Solutions in Sweden.
We have completed our first climate report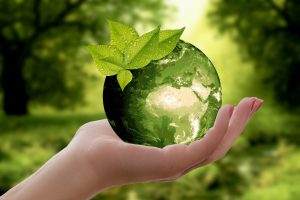 We have set a goal of climate-neutral cpany by 2026 and the first step on the journey has been to map our climate footprint. The data in the report refers to our climate impact during the financial year 2019/2020. The calculation is performed according to the standard GHG (Green House Gas) Protocol – Corporate standard and included categories are presented in the report.
The aim is to year by year expand the calculation so that at least 95% of emissions include when the statement about climate neutrality is done. This is a requirement in, among other things, PAS 2060, which is a standard for climate neutrality.
Purchasing is our largest emission category, followed by purchased energy, refilling of refrigerants and business trips.
To meet the goals of the Paris Agreement, absolute emissions must be halved by 2030. Based on our emissions in 2019/20 we need to reduce them with approximately 7% per year to reach that goal.
With this knowledge we have been able to focus our action on relevant areas. We will, for example, reduce our use of cleaning chemicals by 50%, replace old equipment and therefore reduce refrigerant leakage, implement our travel policy and through awareness make good decisions.
This year we will include our sub-contractors and the transports between them in the calculations.